Lavasoft Personal Firewall Review
Version 1.0.543.5722 (433)
by Coenraad de Beer (Webmaster & Founder of Cyber Top Cops)
Posted on 29-11-2006
Lavasoft Personal Firewall is an effective, low maintenance, intelligent firewall for personal use. The simple user interface can be deceiving because below this simplified look is an intelligent program that takes the protection of your computer against unauthorised access very serious. Lavasoft Personal Firewall caters for both the novice and power user.
Installation
The installation process is very smooth, easy and super fast, providing the user with the options to manually configure the firewall (ideal for power users) or the user can select the Automatic Configuration Wizard (ideal for inexperienced users). A program database is built during the Automatic Configuration Wizard, so there is far less configuration necessary for the applications already installed on your system. Lavasoft Personal Firewall creates rules for common programs like your browser, e-mail client, media player and certain system processes during the Automatic Configuration, which means you don't need to figure out which applications should be allowed and which ones not. Once the installation is complete you can use the firewall right away without the hassle of the dreadful practice, used by most firewall applications, by adding programs to the database one by one as you use them.
Automatic Updating
There is no update feature in Lavasoft Personal Firewall. We don't see this as a critical feature in a firewall because firewalls do not rely on things like definition files like anti-virus and anti-spyware applications do. So there is not a real need for an auto update feature.
Real-time Protection
An icon in the system tray indicates the status of the firewall and you can adjust the intensity of the real time protection with ease by using this shortcut icon.
Resource Usage
We could not find any major resource usage problems with Lavasoft Personal Firewall and the system performed well with Lavasoft Personal Firewall running in the background.
Isolation of Threats
Lavasoft Personal Firewall has 5 different firewall policies, which can be seen as 5 levels of protection, every level is applicable to a specific situation.
Disable Mode: Allows all communications unrestricted access. Useful for troubleshooting purposes or allowing temporary access to trusted sources.
Allow Most: Allows all communications that are not explicitly blocked. This is useful if you prefer to work in a blacklist basis.
Rules Wizard: The default and recommended mode. It guides you through the process of creating rules for those communications that are not governed by the current set of firewall rules. This policy gives you the most flexibility allowing you to modify the firewall to suit your specific needs.
Block Most: The opposite of Allow Most. Blocks all communications that are not explicitly allowed. For proper firewall functionality, you need to create firewall rules that allow communications for each application that requests Internet access.
Stop All Mode: Blocks all inbound and outbound communications. This mode is useful when your computer is under attack.
The Rules Wizard narrows the protection policy down to specific communications and events within a program. You can specify which actions to take for specific protocols, directions of traffic, remote hosts, remote ports, local ports, time intervals and when the local port is equal to the remote port. Lavasoft Personal Firewall has special Attack Detection properties with in-depth inspection and monitoring of Ethernet and Wi-Fi connections.
Interface
The user interface of the firewall is very simple and easy to use. Easy enough for novice users and flexible enough for more advanced users. Allowing and denying access to new unknown programs and even modules within programs is easy and effortless.
Un-installation
No un-install shortcut is provided in the All Programs menu of Windows. We had to un-install from the Add/Remove applet of the Windows Control Panel. Un-installation is just as fast and easy as the installation process.
CTC Rating for
Lavasoft Personal Firewall:
| | |
| --- | --- |
| Installation: | 9 |
| Automatic Updating: | 6 |
| Real-time Protection: | 8 |
| Resource Usage: | 8 |
| Isolation of Threats: | 8 |
| Interface: | 8 |
| Un-installation: | 8 |
| Overall: | 7.85 |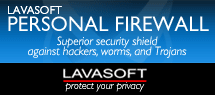 [More Info] [Download Trial] [Buy Online]